Commercial Water Damage Restoration Akron, OH
Businesses can never predict when water damage is going to strike their location. Water damage can leak into walls, ceilings, floors, furnishings and other areas of your facility. Whether it be a plumbing leak, storm damage, roof damage or other catastrophic event, Paul Davis is there to help.
The water damage restoration team at Paul Davis Akron has many years of experience dealing with all sorts of water damage. Whatever the cause, our IICRC certified technicians can take care of your water damage and get your property, be it commercial or residential, looking as good as new.
If your home or business has sustained water damage from a burst sewage pipe, leaky roof, or intense floods, it is vitally important to remedy the problem immediately. Paul Davis provides 24-hour emergency water damage services seven days a week.
Our quick response time can restore your commercial building back to normal from start to finish. One call to Paul Davis will dispatch our crews to restore your site quickly, helping you make sure your home or business is up and running. Keep peace of mind knowing we're always just a phone call away from fixing your emergency.
Reasons for Water Damage:
Malfunctioning appliances like refrigerators and dishwashers can result in hazardous water damage around the premises. These problems may start out small. However, the flood may spread through your property and foster further problems from fungal patches.
Water damage may be caused by weather also. Severe downpour or storm systems may harm your commercial property in their own right. These forces may have an intense effect on any property near a stream that spills over from these heavy rains.
What We Can Do
Paul Davis offers a variety of services such as water damage analysis and removal. Based on the scale of your space, Paul Davis experts can clean wet surfaces like furniture. We also clean and restore things like clothes. If neglected, serious water damage could leave fungal colonies behind.
Our Repair Contractors Perform:
Water damage assessment
Water removal
Drying affected surfaces such as walls
Cleaning and restoring of possessions such as clothes
Preventing mold or mildew growth
Locating and isolating the cause of leaking water
Reconstruction services or weather damage repair
Assisting with insurance companies
Problems Caused by Water Damage
Even the smallest amount of water can cause serious damage to your home in the forms of stains, smells, mold, and structural damage. Putting off addressing your flooding and water damage issues will just lead to increased damage and expenses down the road. Our water remediation team will get to work quickly to ensure that damage does not spread and renovations are completed as soon as possible.
Immediate water remediation is crucial to commercial restoration for preventing issues down the road. Even small amounts of water left unattended can result in long term issues for your commercial property including:
Mold
Bacteria
Allergens
Unpleasant odors
You may find wooden structures like doors and windows begin to swell and warp if water damage goes unnoticed. Water damaged wood can even lead to the disintegration of other wood structures, resulting in costly repairs. Damage to equipment, upholstery, carpets, book, records and more come from the result of standing water that quickly spreads throughout the building.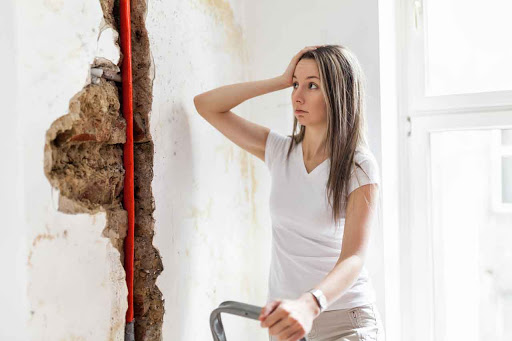 Here are a few important reasons why immediate commercial water damage restoration is essential to fixing your commercial building. We can help solve any size disaster, from small or large commercial building water damage issues. Remember to call us at (888)-473-7669 to get 24 hour service if you need immediate commercial water restoration.
Our Water Damage Cleanup Strategy
Paul Davis is always there for you with our 24/7 emergency response service. We offer a full menu of service options to restore your property, no matter the cause of the water damage. Our commercial water damage restoration services include:
Water Damage Assessment
First, our crew will locate and get the leak under control – even if it is only a temporary leak. Tackling the leak before trying to extract the water is essential to water mitigation. Once this process is complete, we move on to the water extraction process.
Water Extraction
The longer the water settles in your commercial building, the more damage it can cause. Our team quickly extracts all the standing water to prevent any secondary damage and mold from growing due to additional water damage and flood damage restoration.
Drying of Affected Areas
Our team specializes in using professional grade equipment to dry and dehumidify any areas affected by water damage. This allows us to force dry air into the contaminated areas, which removes moisture from the air and minimizes any future water damage or risk.
Cleaning and Restoration of Possessions
The possibility of the contaminants and debris reaching your possessions may be high. No worries, Paul Davis has you covered. Debris might enter the property due to a flood or a burst from sewage pipes. Once the water has been completely removed, our crew will safely clean and disinfect the affected possessions that belong to your home or commercial business.
Remediating Mold and Mildew
Our team of expert restoration specialists remediate mold and mildew to prevent any future property damage that may not have been seen in the initial water damage.
Locating and Repairing the Source
Once the mold and mildew have been removed and the water is completely extracted, we can begin the repair and restoration process. Our dedicated restoration team handles everything from replacing removed items, starting from scratch, or sprucing up the commercial property area.
Reconstruction Services
The reconstruction team uses state-of-the-art equipment to handle any repair from building a small section of your building to a complete commercial rebuild.
Assisting with Insurance Claims
Dealing with insurance claims as a result of water damage or other potential disasters can potentially devastate business functions and operations. No matter the commercial property, we will assist you with filing claims to your insurance company to keep you back in business.
Why Choose Paul Davis?
Few other businesses offer the immediate 24 hour emergency services that Paul Davis provides. Our experts have been helping business owners repair and rebuild their commercial buildings from unwanted water damage. Trust our experts to properly restore your commercial building from any water damage while providing communication and consistent updates.
Trusted Restoration Services
We answer and work promptly Depending on the level of damage, Paul Davis experts may be able to restore water damage in your commercial space in up to a few days.
We are knowledgeable – After half a century of operation and millions of properties restored, Paul Davis knows how to solve your water damage emergency.
We assist with your claims – Teaming up with insurance providers when bouncing back from water damage is stressful. We can talk to your insurance group to file claims fast.
Akron Water Damage Restoration Solutions
Our job is to get the building cleaned up and back to its pre-loss state as quickly as possible. Paul Davis is ready to assist you at any moment's notice.
Our Akron, OH water damage restoration team minimizes any interruption to your home or business, doing everything possible to keep your doors open during the restoration process. We can help solve any size disaster, from small or large commercial building water damage issues. When it comes to getting you back in business, Paul Davis has you covered with more than 300 independently owned and operated franchises.
Call us at (888)-473-7669 for 24/7 to get help with commercial water damage restoration. Our services include water, fire, wind and mold damage restoration among other emergency services. Whether it be a plumbing leak, storm damage, roof leaks or other catastrophic event, Paul Davis is there to help.
Paul Davis 2021. All rights reserved.