Flooded Basement Water Removal, Cleanup and Restoration Service
Standing water in your basement can cause large amounts of damage, mold, and mildew. Not only do basement floods cause external damage, but they can be very intense, stressful, and anxiety-riddled events for homeowners. If you are experiencing basement flooding and don't know where to turn, you should call Paul Davis Akron Today! Our highly skilled and experienced technicians will get to work immediately in removing water and restoring your basement to its pre-flood glory.
Not only can the standing water in your basement be messy and damaging, but it can also be very dangerous, and it is important to get it taken care of as soon as possible.
Flooded Basement Causes
Whatever it was that caused your flooding, our technicians can handle it. Our flood technicians will be able to stop the flooding, repair whatever caused it in the first place, and restore your flooded basement to its original state. Leaks are often the result of pressure generated by water in the ground bordering your foundation. Some common causes of basement floods can include the following: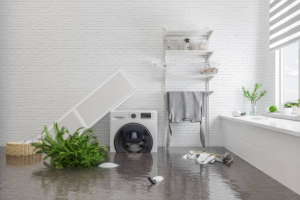 Broken pipes
Sump pump failure
Sewage or storm backup
Heavy rains or snowmelt can cause soil saturation creating intense water pressure, resulting in water seepage through the basement floor, walls, or foundation
Loose soil surrounding your foundation may absorb lots of water. When it expands it puts pressure on the foundation laterally, resulting in leaks and foundation damage
Improperly installed windows providing a pathway for water
Leaky water heater
If you find any cracks in your basement walls or floors, it's a telltale sign that trouble could be coming. It's especially concerning if you happen to find any water pooling on the floor or leak stains on the walls. Basement floods can be incredibly dangerous and result in severe structural damage if left untreated.
In the event that your basement floods, there are some steps you should take to ensure safety for everyone in the home.
Contact your local city water department to check sewage mainline conditions.
Shut off any power to the area and do not enter it until you are certain that it is off.
Wear protective gear at all times when entering the area as floodwater can have dangerous contaminants, particularly if it's coming from a sewer drain.
Call Paul Davis Akron and have our certified technicians handle the rest
Emergency Services
Here at Paul Davis Akron, we offer 24/7 emergency services so that we can assist you at all times, right when you need us. Our IICRC certified technicians will assess the cause and extent of the basement flooding and then quickly and efficiently remove any standing water and residual moisture before beginning any necessary restoration and reconstruction.
Basement Flood Restoration
We will work with you and the insurance company from start to finish in order to make sure that your claims are handled correctly and restoration can happen as quickly as possible. Depending on the scale of the flooding basement and water damage, it's possible to see a full restoration in as little as three days.
Assessment
The first things our technicians will do when they arrive on the scene are; determine the source of the flooding and assess the extent of the damage. Once the cause of the flooding is repaired or stopped we will figure out the best strategy to remove any standing water.
Mold and Mildew Prevention
Any items that were affected by the flooding will be removed, cleaned, and restored if possible. All affected areas such as basement floors, walls, furniture, carpet, and padding will be dried out as soon as all standing water has been removed from the basement.
Full Restoration
At Paul Davis Akron we use specialized equipment and techniques to remove any residual moisture and prevent mold and mildew damage. Once all excess moisture is removed from your flooded basement we can begin any demolition, reconstruction, and repair that is needed to get the basement back to its pre-flood state.
Dealing with an insurance company while worrying about your property and belongings can be a very stressful process. At Paul Davis, we will work with your flood insurance provider to make sure your claims are settled quickly and accurately.
Call Paul Davis today, and let us be your best friend on your worst day!